Women's History Month

March Is Women's History Month!
"Nevertheless, She Persisted: Honoring Women Who Fight All Forms of Discrimination Against Women."
As Supreme Lady of the Knights of Peter Claver Ladies Auxiliary, I join with our Most Worthy Supreme Knight in asking our entire Order to celebrate and recognize the challenges overcome, being faced, and yet to be battled by women during this National Women's History Month!
Women have played a vital role in the progression of our church, our organization, and the communities in which we serve. From our Junior Daughters to our most senior ladies, we have a wealth of service, leadership, and a mother and sisterhood that is illustrated daily throughout our Claver family!

Let us utilize this month to pay special attention and homage to the women who have positively impacted our lives!

Yours in Claverism,
Vertelle A. Kenion
13th Supreme Lady

---
WOMEN'S HISTORY MONTH RESOURCES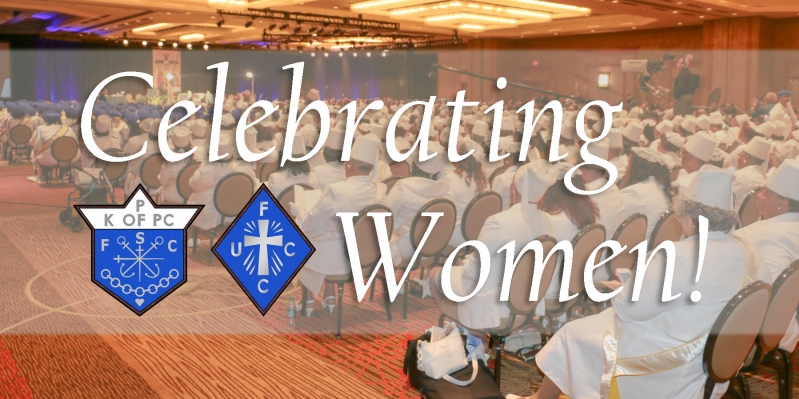 LIST OF SUPREME LADIES, KNIGHTS OF PETER CLAVER LADIES AUXILIARY
Mrs. M.L. Lunnon, First Supreme Lady

Mrs. Alfaretta R. Aubry, Second Supreme Lady

Mrs. E.B. Jones, Third Supreme Lady

Mrs. Inez Y. Bowman, Fourth Supreme Lady

Mrs. Thelma P. Lombard, Fifth Supreme Lady

Mrs. Florence W. Lee, Sixth Supreme Lady

Mrs. Elise LeNoir Morris, Seventh Supreme Lady

Mrs. Consuella M. Broussard, Eighth Supreme Lady

Mrs. Dorothy B. Henderson, Ninth Supreme Lady

Ms. Leodia Gooch, Tenth Supreme Lady

Mrs. Mary Louise Briers, Eleventh Supreme Lady

Mrs. Geralyn C. Shelvin, Twelfth Supreme Lady

Mrs. Vertelle A. Kenion, Thirteenth Supreme Lady

---
CLICK HERE
TO VIEW INFORMATION ON
WOMEN SAINTS
---
CLICK HERE
TO VIEW A LISTING OF
FAMOUS FIRST BY AMERICAN WOMEN
---
CLICK HERE
TO VIEW THE LIBRARY OF CONGRESS
WOMEN'S HISTORY MONTH WEBSITE
---
---