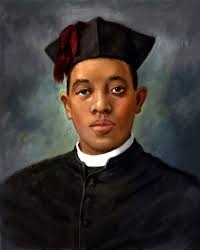 The Knights of peter Claver and Ladies Auxiliary, the largest Black Catholic Organization in the United States, rejoice in Pope Francis' recent declaration of Father Augustus Tolton as "Venerable," which advances Father Tolton's cause to become the first black American saint.
Venerable Father Augustus Tolton, who was born into slavery in 1854, followed after the Lord in the Roman Catholic faith. Eventually being ordained the first known black Roman Catholic priest in the United States, "Good Father Gus" took to heart the words of his mother upon the family's escape from slavery: "Never forget the goodness of the Lord." Although he faced extreme challenges in his short life and priesthood, including the scourge of racism, Father Gus found a way to selflessly serve the People of God.
Although no American Catholic seminary would accept Augustus Tolton due to his race, now by virtue of our Holy Father's declaration all people are now encouraged to seek Venerable Father Augustus Tolton's intercession in prayer. As the United States Conference of Catholic Bishops' recent pastoral letter against racism, Open Wide Our Hearts, The Enduring Call to Love, states: "The salvation which God has wrought, and the Church joyfully proclaims, is for everyone. God has found a way to unite himself to every human being in every age."
Along with many other members of the faithful, the Knights and Ladies of Peter Claver now unite ourselves to his cause for sainthood!
Venerable Father Augustus Tolton, pray for us!
MOST REV. SHELTON J. FABRE, Bishop of Houma-Thibodaux