Xavier University Collegiate Unit
Xavier University of Louisiana's Collegiate Unit of
The Knights of Peter Claver and Ladies Auxiliary
- established April 15, 2018 -
The Collegiate Unit established at Xavier University of Louisiana continues to shine the light of Claverismacross the campus. With over 40 Knights and Ladies the unit's members are active and involved in many leadership roles, events, and activities across the university and city.;

Why Join the Collegiate Unit at Xavier University of Louisiana?

Belong to an active network with over 17,000 members across the country
Be active in spreading "Faith, Hope, and Love through Friendship, Unity, and Christian Charity" throughout Xavier's campus
Participate as a leader / server at university events as well as functions throughout Louisiana and the country
Strengthen your faith and Catholic Action
Receive Member Discounts from our Corporate Partners
Qualify for Fraternal Benefit Life Insurance Policies (up to $5,000 and over)
Be eligible to receive scholarship awards

Download the Xavier University of Louisiana Campus Ministry Brochure

---

Grand Knights
Carrington Guillory
Dominic Scott
Timothy Ambrose
Lester Brown
Grand Ladies
Asha Richardson
Rhea Harrison
Congratulations to our 6 collegiate Clavers who graduated
from Xavier University of Louisiana this past academic year!

We also presented $4,000 in Scholarship Awards
to deserving students!Watch the Video...

---

You can support our Scholarship Programs by purchasing
SCHOLARSHIP RAFFLE TICKETS HERE

---

Council #403 Grand Knight
Dominic Scott
Featured in University Campaign

---

Current Grand KnightDominic Scottwas recently feature in a marketing piece for Xavier University of Louisiana's Institute for Black Catholic Studies.Dominic is an active student-leader - often serving as a lector and usher at university masses, excelling academically, and attending various academic and leadership meetings, conferences and conventions.

---

Students at Xavier University of Louisiana Stand for Justice
In Slaying ofAtatiana Jefferson, 2014 Graduate

Reflection byTimothy Ambrose, 2019 Graduate and Immediate Past Grand Knight

Having such tragedy strike so close to home and with homecoming just a month away, we were compelled to act in support of our fellow Xavierite. We decided to come together as a community and have an open discussion in the form of a town hall meeting; from there we processed to the University's chapel for a candlelight vigil in honor and remembrance of our fallen sister.

People poured in from around the city: civil rights attorneys and police officers representing different agencies showed up in support of Atatiana Jefferson; during the week of homecoming the her class, the Class of 2014, decided to host a "homegoing celebration" for her. The event attracted the support of the University's Provost, Dr. Anne McCall, liturgical dancers, and many Xavier students, and alumni.

As community advocates we demand that justice is served on behalf of our sister. We value life and any unjust taking of lives require accountability and justice.

Timothy Ambrose is a 2019 graduate from Xavier and remains an active member in the Crescent City, Xavier University of Louisiana Knights of Peter Claver Council #403. He is the Immediate Past Grand Knight of the Council.

---

Knight Troy Carter, Jr. Featured in Claverite Magazine

Council #403 Bro. Troy Carter, Jr. was featured in the Summer 2019 edition of The Claverite, the official national magazine of the Knights of Peter Claver.

The story highlighted Bro. Carter's experiences working with youth through the STEM NOLA project.

Troy is a strong academic as well as an active member of the Knights of Peter Claver. He was also elected to serve as President of the Society of St. Vincent de Paul's unit on Xavier's campus and led efforts to bring a food pantry to the university.

Click Here for Claverite Story



---

Court #403 Lady andXavier Alumn honored with Scholarship for Medical School


NEW ORLEANS (WAFB) - Ochsner Health System awarded recent Xavier University of Louisiana graduate Sarah Bertrand its inaugural Ochsner Health System Medical School Scholarship for LSU Health Shreveport, which will cover cost of tuition and fees for Bertrand to attend the four-year medical school program.

Bertrand, 21, graduated Magna Cum Laude from Xavier during spring of 2019 with a degree in biology, a minor in chemistry, and honors in biology, English and chemistry.

For the full story click this link:https://www.fox8live.com/2019/07/23/xavier-university-louisiana-graduate-honored-with-scholarship-medical-school/
---
The First Formal Collegiate Unit of the
Knights of Peter Claver and Ladies Auxiliary
Established at Xavier University of Louisiana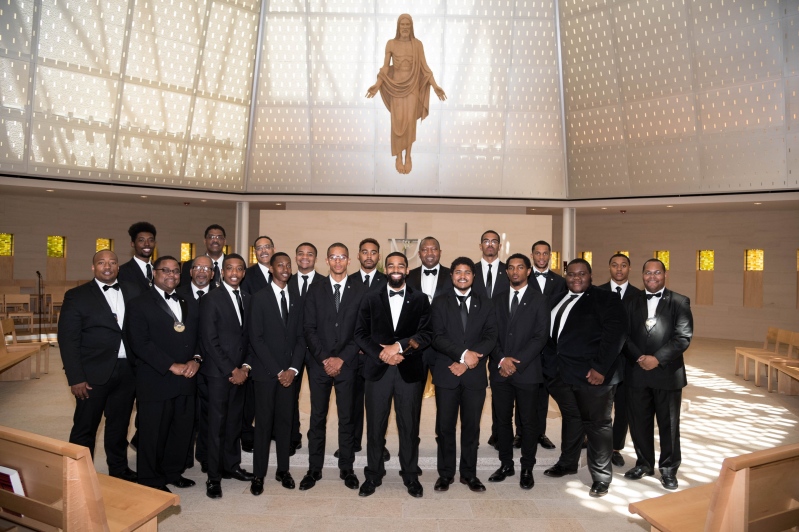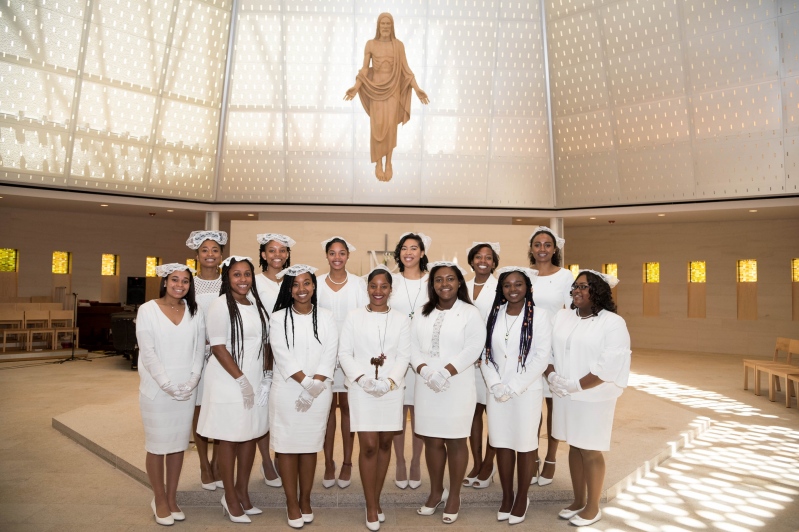 On Sunday, April 15, 2018, a historic partnership between theKnights of Peter Claver and Ladies Auxiliaryand Xavier University of Louisiana was recognized with the establishment of Unit No. 403. The Knights of Peter Claver and Ladies Auxiliaryis the world's oldest and largest historically Black Catholic Lay Fraternal Order and Xavier University of Louisiana is the only historically Black Catholic University.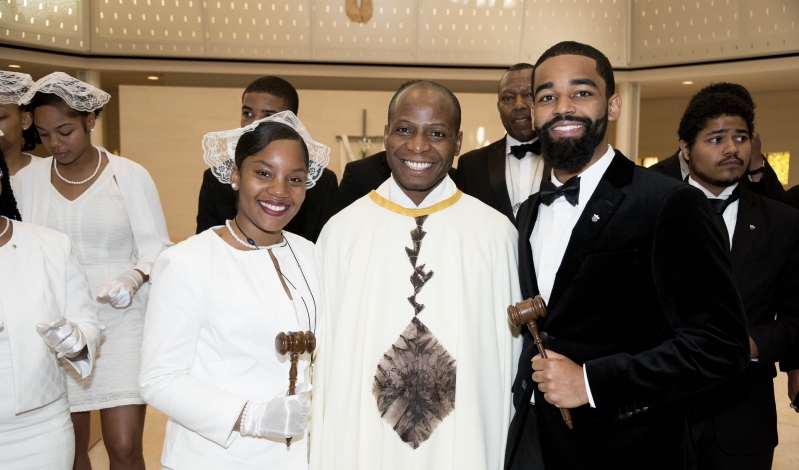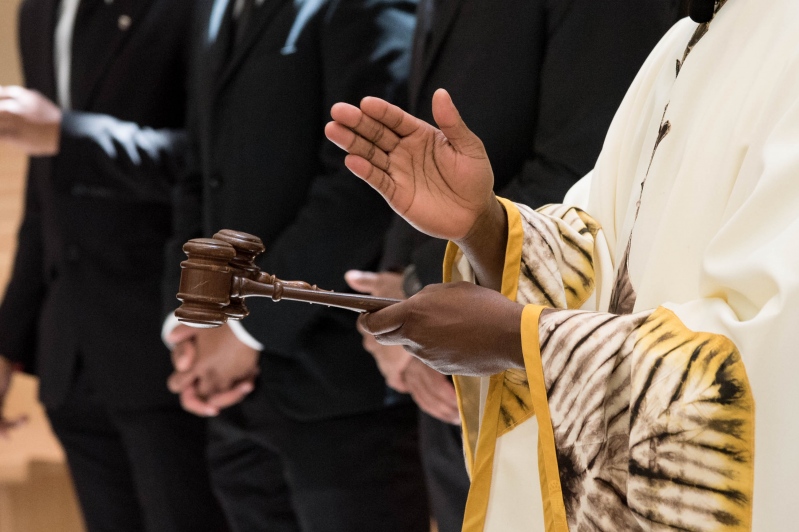 Rev.

Etido

Jerome

, SSJcelebrated a spirit-filled mass at St. Katharine Drexel Chapel onXavier's Campusand Bro. Lester Brown and Lady Rhea Harrison were sworn in as Grand Knight and Grand Lady respectively.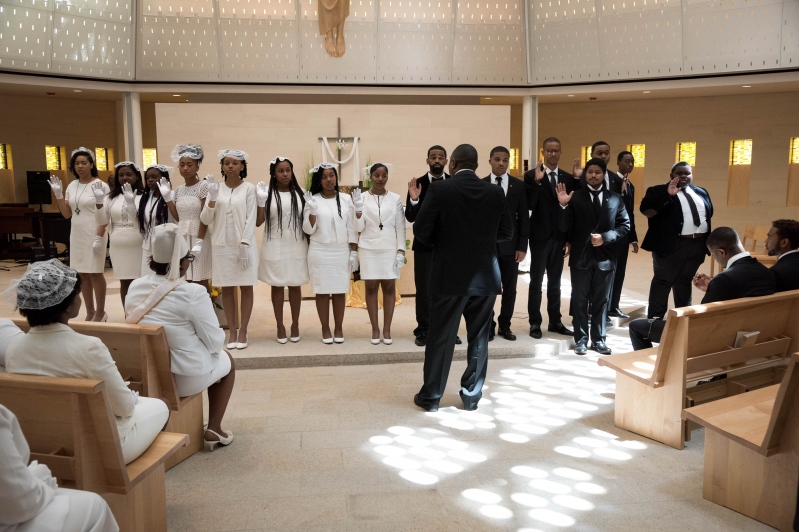 Most Worthy Supreme Knight and CEO James K. Ellis led the swearing in of the officers and welcomed the Order'snewest council and courtto the Claver family.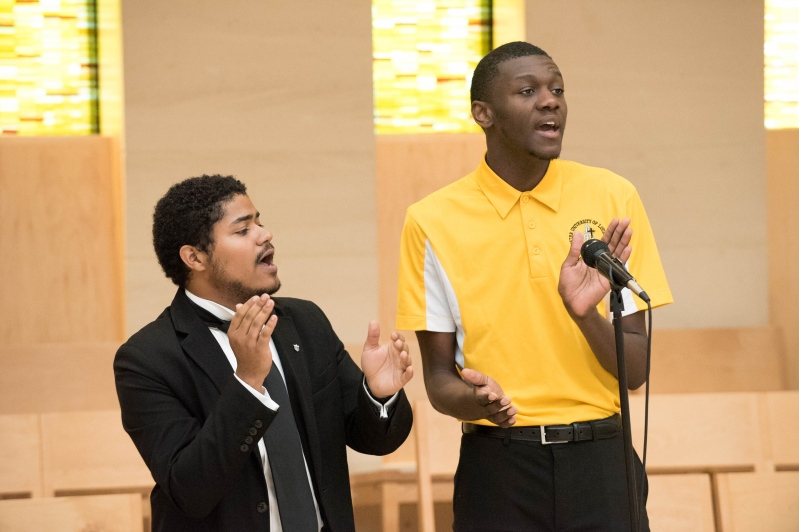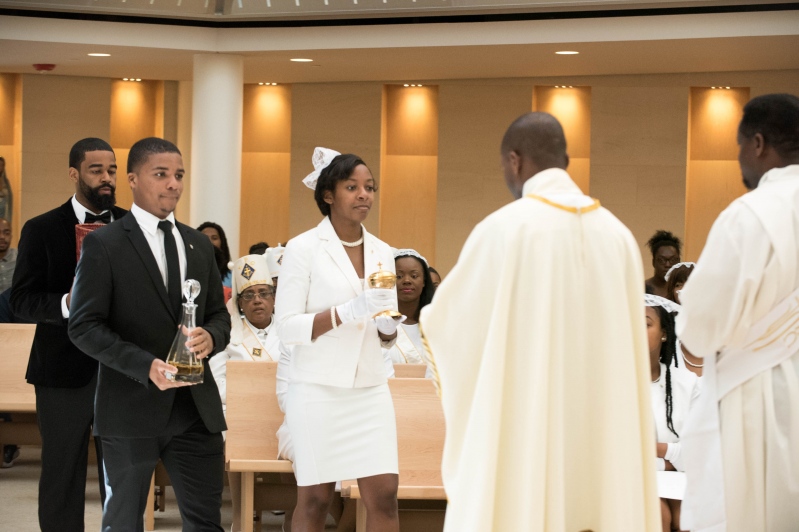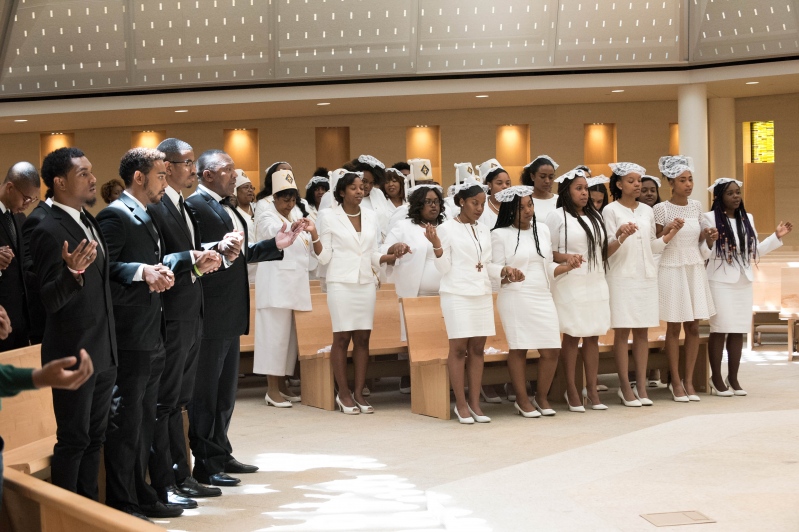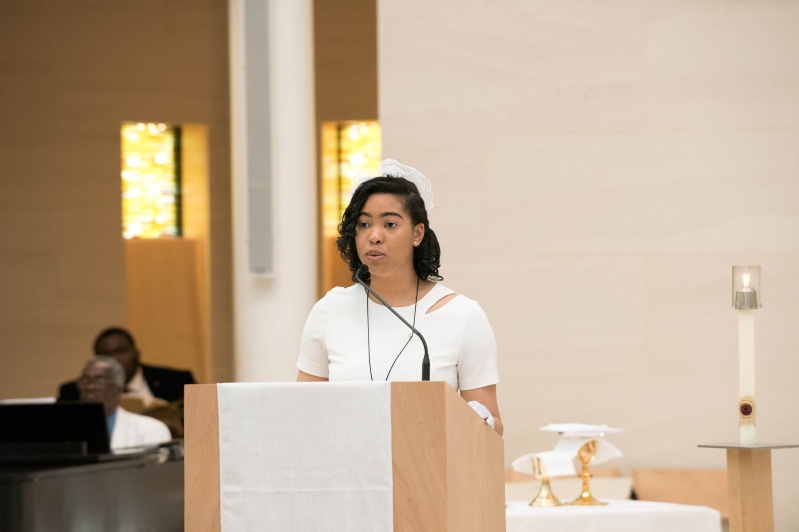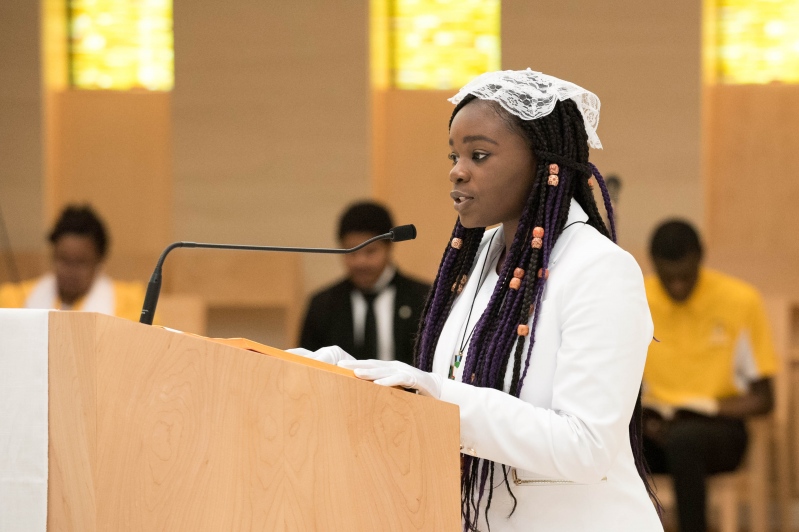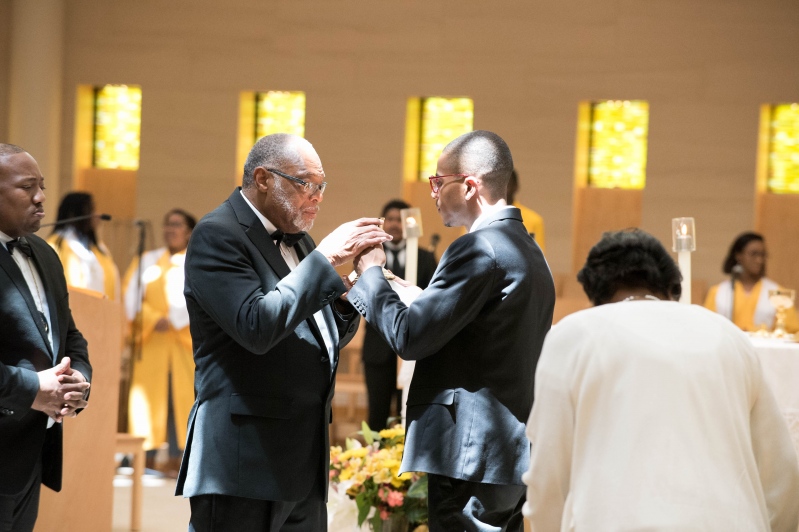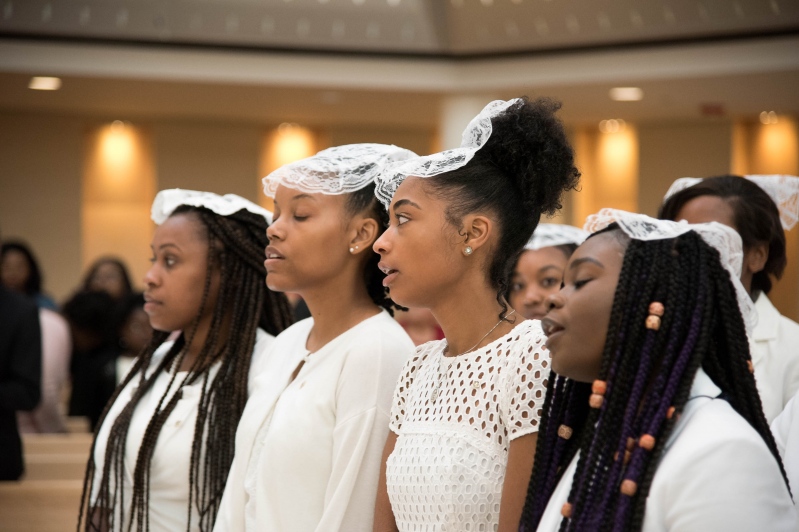 Members of Unit 403 participate in the celebration of mass - serving as musicians, vocalists, lectors, Eucharistic ministers, and the presentation ofgifts.

Members of Unit No. 403are very active on the Campus of Xavier University of Louisiana. In addition to the University President and Associate Director of Campus Ministry, they include the current SGA President, theSGAVice President Elect, the Polemarch of Kappa Alpha Psi, members of Alpha Phi Alpha, recognized athletes, and several former Junior Knights and Junior Daughters who have served on national and state boards.
The Claver family welcomes our gifted, talented, and blessed family members and looks forward to
fellowshipping
, worshipping, and serving with you!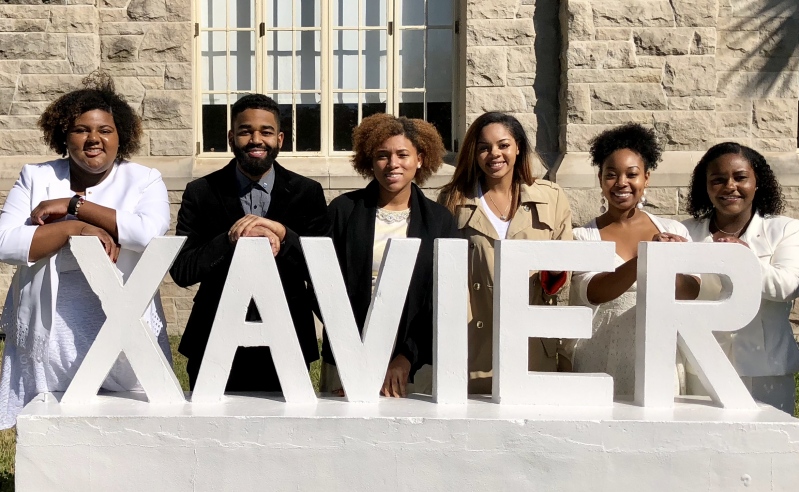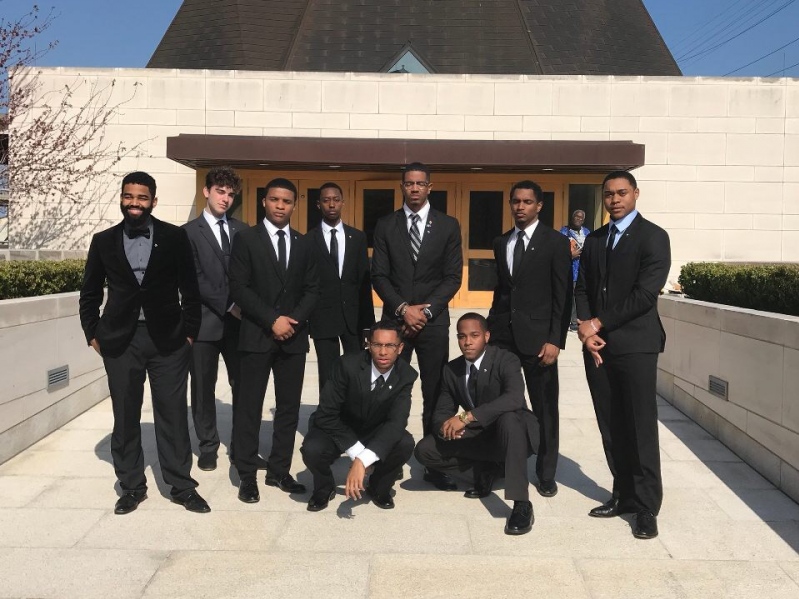 PICTURED ABOVE: New Initiates pose with several current KPC Members after being initiated on Sunday, January 14, 2018 and Sunday, February 4, 2018.
Bro. Timothy Ambrose, Jr. is a Political Science Junior at Xavier University of Louisiana. He along with 12 other students, and the Xavier University President, Bro. Dr. C. ReynoldVerret, were recently initiated into our Noble Order. The new members will soon join other students, faculty, staff, and administrators who are already members as well as several soon-to-be initiated prospects in establishing the first official Knights of Peter Claver and Ladies Auxiliary Collegiate Unit at Xavier University!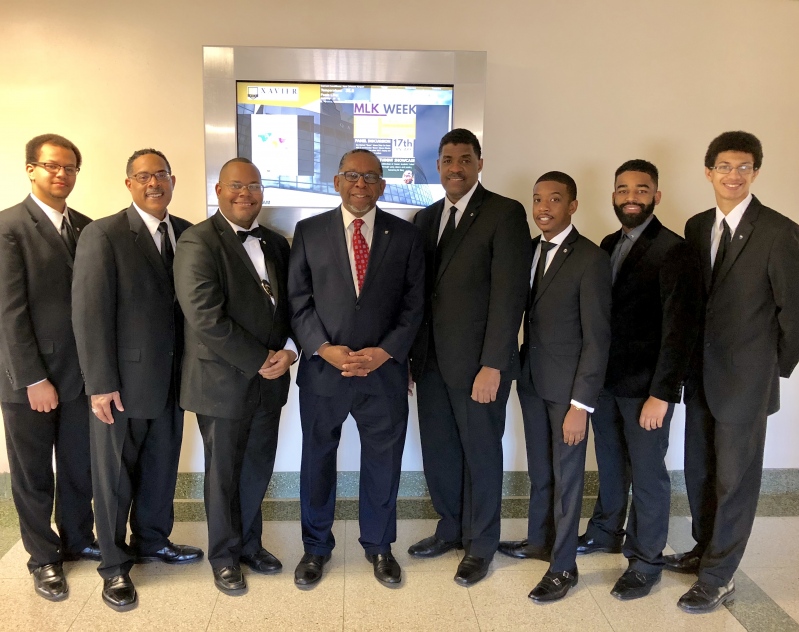 PICTURED ABOVE: Brothers pose with newly initiated Knight, Dr. C. Reynold Verret, President of Xavier University on Sunday, January 14, 2018.
Most Worthy James K. Ellis, Supreme Knight; Most Esteemed Vertelle A. Kenion, Supreme Lady; and the Emerging Leaders Committee Chairs, E. Desmond Taylor and Arletta Chambers, have been working diligently to lead the way in turning this vision into a reality. With the assistance of local Clavers, they have engaged in meetings with Xavier University administrators, set up information tables, held a formal on-campus informational,turned out for Xavier University's Homecoming Mass, and communicated with students through emails and a digital and print recruitment brochure specifically targeting potential membersfor collegiate units. The efforts to ensure Xavier University's buy-in and to recruit members greatly paid off!

PICTURED ABOVE: Third and Fourth Degree Knights and Ladies turn out for Xavier's Homecoming Mass on Sunday, November 19, 2017.Information about the Collegiate Unitwas distributed and students signed up to join or get more information.
I felt like this was Black history at its finest. It's never too late to create timestamps and become pioneers of something that will change lives. It felt like the dawn of a new era. Bro. Ambrose said when asked how he felt about being initiated.

PICTURED ABOVE: Members accept a generous donation in support of the Collegiate Unit from Lady Courtney Andrews.
And pioneers they have been. With the authorization granted by the National Council and Court Boards and National Convention, the first initiation was held on January 14, 2018. The collegiate members then eagerly took charge. In a matter of weeks, the members met with and petitioned the President's office for meeting space, voiced their interests and concerns regarding faith on campus, sponsored Mass at the university chapel, set up informational and interest tables to recruit additional members, created a social media presence, and scheduled and participated in a subsequent initiation - bringing in new members they recruited. They have already identified several more prospects for initiation.

PICTURED ABOVE: Local Ladies provide refreshments after the KPC/LA sponsored mass at Xavier University on Sunday, November 5, 2018.
Collegiate units afford our young people the opportunity to worship, serve, lead, and fellowship with other like-minded Catholics in a world in which they otherwise often feel isolated and in the minority. The concept addresses major concerns and strengthens weaknesses not only in our Order, but the Church and communities in which we serve as well. We are all too aware of the gap between membership in our Junior and Senior Divisions, as well as the call of the Church and community to address issues of faith, service, and opportunities for young adults.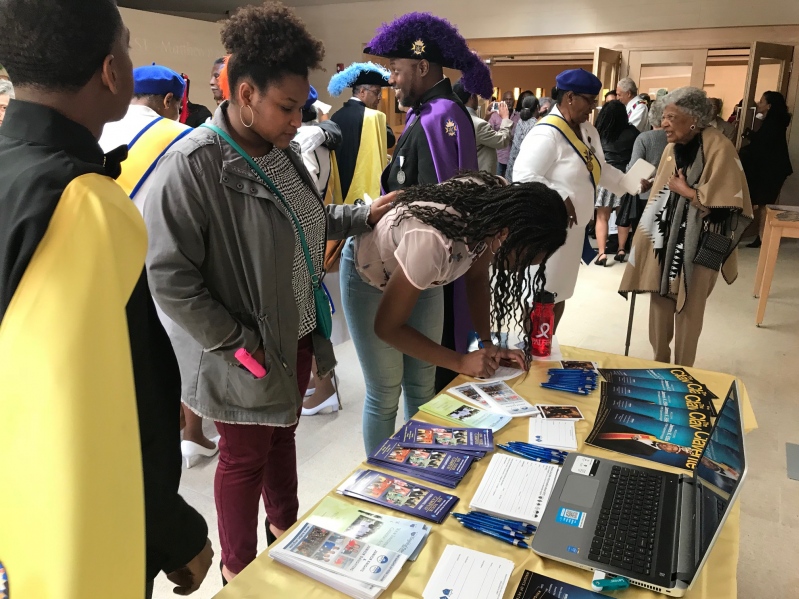 PICTURED ABOVE: Students take advantage of one of many sign-up opportunities to join the Collegiate Unit.
Lady Sarah Bertrand, a newly initiated Biology Pre-Med Junior, expressed this when asked about the value of having a collegiate unit, "Before the Knights of Peter Claver came to campus, there was a lack of connection among the Catholic students on campus. I was searching for a group of people with whom I could share the faith, attend mass, and strive for holiness. I am so glad to have found this community through the Ladies Auxiliary of the Knights of Peter Claver."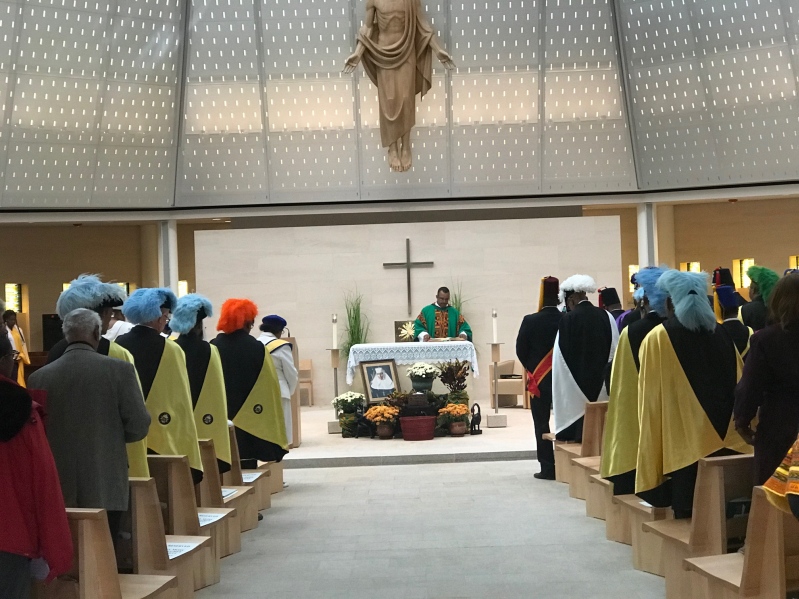 PICTURED ABOVE: The Fourth Degree Honor Guard at the Xavier University Homecoming Mass.
Bro. Lester Brown, a Xavier University Junior majoring in Sociology and minoring in Theology, has been dutifully working to recruit new members for the Collegiate Unit. He says that he chose KPC to uplift and strengthen the faith of young Black men and women of the Catholic faith, I chose KPC because of the silent yet visible request from God to serve Him and His people, which I promised at my Baptism.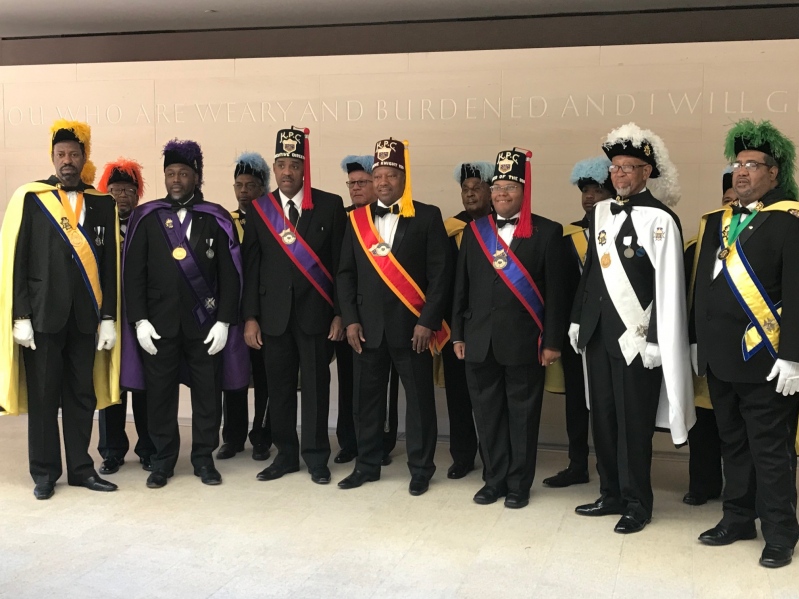 PICTURED ABOVE: Several National Officers pose with other Fourth Degree Knights at the KPC/LA sponsored reception following Xavier's Homecoming Mass.
We are truly excited about what this new energy, passion, and desire to serve will bring to our Noble Order. All who have met with and been in the presence of these outstanding new members have had their commitment to Claverism reignited and reinvigorated. This is our future! said Most Worthy James K. Ellis, Supreme Knight and CEO.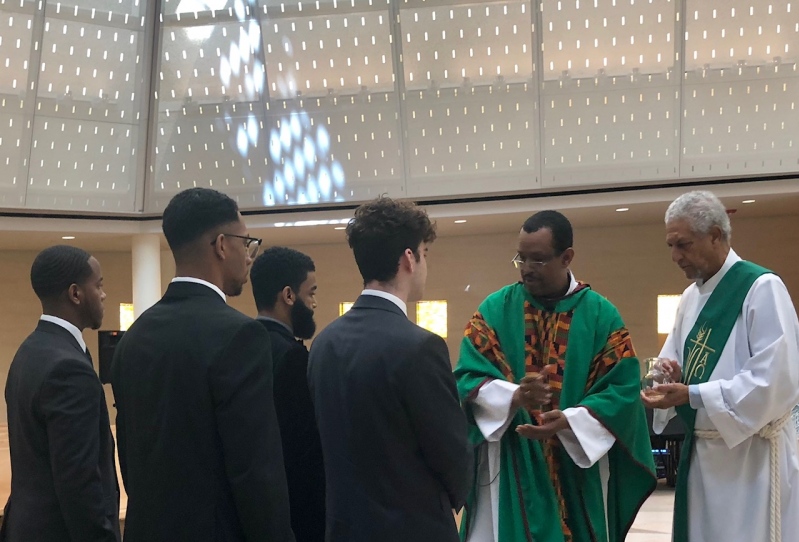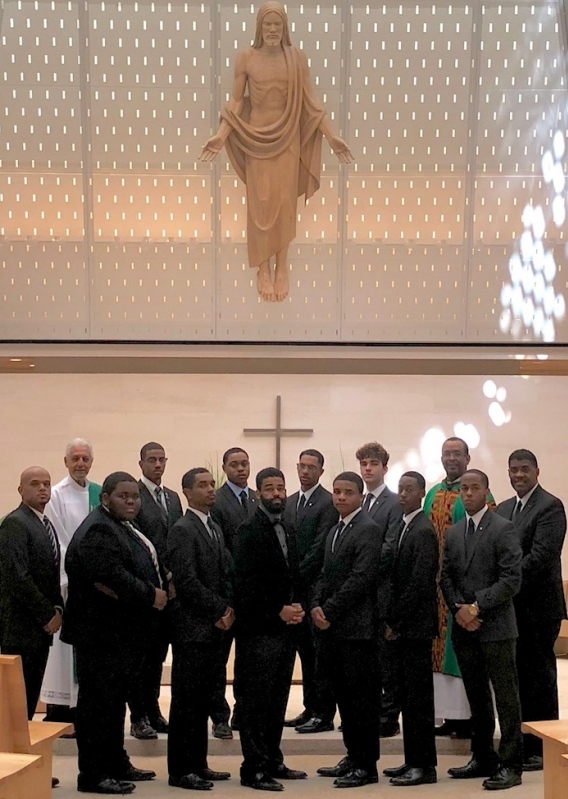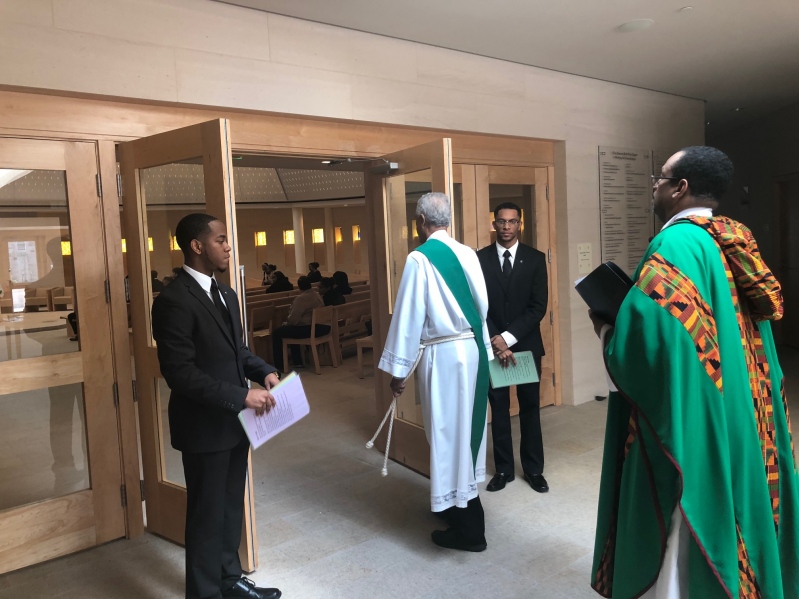 PICTURED ABOVE: Newly initiated Knights sponsored mass immediately following their initiation. The brothers served as lectors, ushers, and provided refreshments after the service.
Most Esteemed Vertelle A. Kenion agreed and added, the Bible states that a child will lead them. We are so blessed to have these young and capable adults help lead Claverism and our Church during these times of change and transformation!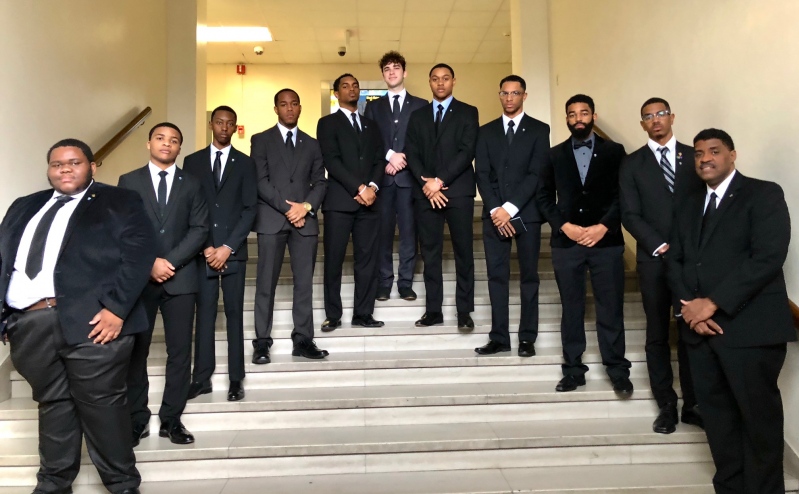 PICTURED ABOVE: Newly initiated Knights pose for a picture with several other brothers.
Once the requisite number of Knights and Ladies join or are initiated as obligated members, the formal council and court establishments will take place. The current Knights and Ladies on Xavier's campus continue their efforts to recruit quality members and remain active in serving in ministries, assisting fellow students, and serving the greater community. The formal establishment is on target to take place before the end of the Spring Semester 2018.
Because this prototype will become a National Model, the National Office worked closely with the Emerging Leaders and Xavier University representatives to most effectively plan, execute, and evaluate the Collegiate Unit concept so that it fit into the academic and social world of our young members. With the successful implementation of the Xavier Unit assured, our national expansion of the program will soon follow - working closely with each District or State Deputy to effectively answer our call to provide opportunities to young adults.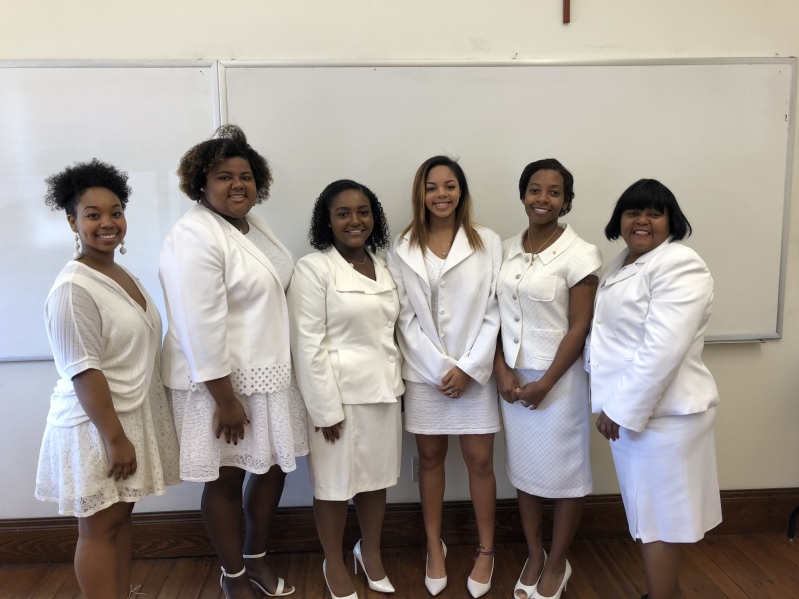 PICTURED ABOVE: Newly initiated Ladies pose with several Ladies after initiation.
RESOURCES: